Below is the complete list of artists that have been featured the Transmission/Disruptive Communication project. Due to the varying sizes of windows from place to place, not all artists can be shown on every window.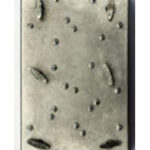 David Bloor – Wave, 2020
David Bloor is a sound artist based in London. His work encompasses composition, field recordings, installation, performance and sculpture. In his work Wave, he seeks to explore indeterminate actions and reactions that arise from the release of tension within a music box that has been modified into a modular synthesizer.
Curated by Paul Malone and Nicola Rae, England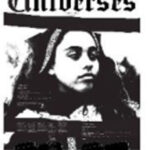 Joseph Dadoune – Universes CD, 1998-2003
Remainder Resident
My Head Split (Guest: Riff Cohen, special mix for Worlds project)
Joseph Dadoune is an Israeli/French artist and filmmaker. The musical pieces are part of a suggested journey into a parallel universe from his "Universes" CD. The artist slows down the original recording, and thus relates to the sounds and recorded phrases as raw materials, similar to organic materials. The distortion of sound creates an effect that recalls the conjuring of voices from the dead, from the depths of a vanished archive, in which personal confession and collective lamentation act in combination. The resulting musical collage creates a sense of mysterious, deep space, in which layers of past, present and future seem to collapse into each other.
Curated by Drorit Gur-Arie, Israel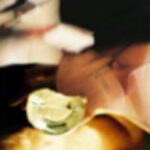 Norma Drimmer – Emet, 2020
Norma Drimmer is a German artist and filmmaker. Her work deals with the question of what it means to be human, to be able to open up to the rhythm of sequences of memories and one´s own subjective response to them. The work focuses on self-reflection that will lead us to questions about truth and about what might be essential to make us humans. Within it you can distinguish the text of "emet – truth", and the text "listen to what is essential, express what is essential, what is essential?"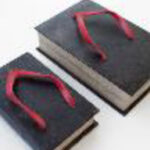 Guy Goldstein – The Mighty Zoo, 2018
Guy Goldstein is an Israeli artist and musician. The song is taken from his record, "Memorable Equinox" that was created during a residency in Northern Ireland, while staying in a 200-year old "Curfew Tower." The complex political situation of the place contributed to his ongoing research on the notion of "noise," exploring it via different encounters between sound and image. The conflicted setting and the long history of physical as well as mental "background noises" colored the "noise" with political hues. The song refers to the Irish mythological goddess of war and to conversations the artist carried out with Raymond Watson, an ex IRA-activist who was incarcerated at the infamous Maze Prison. The song tells of the attempts made by the prisoners to communicate across the cells with sound.
Curated by Drorit Gur-Arie, Israel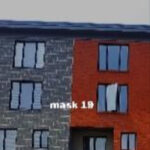 Céline B. La Terreur – Mask 19, 2020
Céline B. La Terreur is a French-Canadian feminist artist. The COVID-19 pandemic has brought a dramatic increase of calls for help on the part of women who live under the threat of "intimate terrorism" another term to designate "domestic violence". "MASK 19" has become a worldwide code word for women in order to call for help if they are trapped in a violent relationship. As Céline B. La Terreurs gives a reading of some excerpts of "Le livre noir de la condition des femmes", (translated in English), she draws a troubling portrait of violence against women, all over the world.
Curated by Joyce Yahouda and Julia Vincelli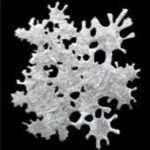 Paul Malone – Virus Relic, 2020
Paul Malone is an artist and curator. He is interested in how the physical world comes into existence; how it originated, how it maintains itself and its relationship to consciousness.  The work came about through the artist noticing how close the current psychological environment is to cultism. In Melissa Dykes' excellent short film 'The Characteristics of an Initiation Ritual' she recognises 3 phenomena, all of which are present today: Isolation for Purification, The Transition (the old self dies, descending into a state of liminality) and Integration into the New Reality (or Resurrection to the New Normal). Although she alludes to the shamanic 'wearing of masks', she misses that other item prevalent in many cults – namely that of the fetish item or holy relic. This work fills that void by narrating the discovery of our very own holy 'virus relic'.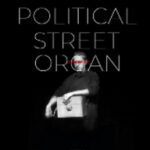 Ondřej Líbal – Political Street Organ, 2020
"Political Street Organ" is an artistic response to the current times global resurfacing of political indoctrination. The emerging artist Ondřej Líbal, a student of Multimedia of the Ladislav Sutnar Faculty of Design and Art, experiments with old cassette players, contact microphones, discarded electric organs, and other outmoded devices, to create multilayered audiovisual experiences. In "Political Street Organ", the artist performs a recorded fragment of a political speech, manually distorting it. His self-made box and the way to operate it, are reminiscent of a street organ that normally would amplify pleasing melodies, evoking a coincidental soundtrack to urban life. In his performative gesture, Líbal hijacks this device and turns it into a propaganda machine that effectively plants seeds of disunity into the minds of passers-by.
Curated by Jan Van Woensel, Czech Republic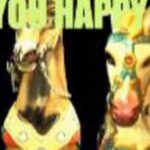 Jenny Marketou – Are You Happy Now, 2012-2013
Jenny Marketou is a Greek/American artist. The work is composed of a series of phrases that offer humoristic ad thought provoking ideas about the meaning of "happiness". The texts are projected on a background of a chorus of four plastic horses of the type found in amusement parks and shopping centers, which have been isolated from their physical and pleasant context and move forwards and backwards in a loop. Phrases of "happiness" pass by at a rate of four beats per minute – twice the rate of dance music and in precise beat with the soundtrack. Similar to the montages created by the Dada artists, this clip entices the viewer to focus on the intervals between reality and fantasy without any realization or conclusion and raises associations of happiness as a human structure that does not exist.
Curated by Sania Papa, Greece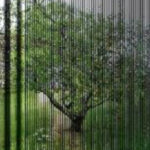 Brian McClave – A Garden, 2020 (in collaboration with Wendy Rae Fowler, Gareth McClave, and Tom Wichelow)
Brian McClave is an American artist. Through his audio collage and photographic time-lapse imagery, he observes the world in small increments of time that build up slowly into larger complex structures. The work is a second sound collage that transports the listener out of a city in lockdown, to another location, and a previous time. Audio clips gently weave chronologically through a full year spent in an English garden, including the voice of a resident gardener periodically interjecting with musings on life and natural cycles. "A Garden" is paired with "Apple Tree, One Year Exposure, Digital Slow Scan Photograph, 2017". As the title indicates, a single iconic photograph is presented; however, it comprises of thousands of slices of chronological photographs, resulting in an image that represents a scan of the scene made throughout an extended period of one year. The apple tree changes according to the seasons as we move laterally from left to right through the photograph presenting the viewer with an opportunity for considering the passing of time, not unlike a memento mori. The apple tree is located in the garden where the sound recordings were made.
Curated by Stephan Apicella-Hitchcock, USA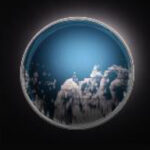 Nicola Rae – Coronavirus Mediatization Frequencies
Nicola Rae is an artist and a curator. Her art practice engages with sound visualization in response to scientific data as well as live co-produced sound. In this work, an electron microscope image of a human cell infected with SARS-CoV-2 has been processed through sonification software. The microscopic image has been analysed as sound through Sonic Photo, which registers each pixel as sound from left to right. This sonification has then been processed through a sound emission analyser, re-emerging as an image with digital glitches – as seen in the image within a Petri dish. These distortions reference the increasing layers of mediatization framed through different lens that the Coronavirus discourse continues to be subject to. The radiophonic sound of pixel sonification resonates with the increasing amplification of media data transmission.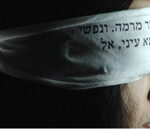 Dafna Shalom – Evening Prayer, 2008
Dafna Shalom's video work is part of a series that combines a site specific idea with a cycle of ritual passages based on time (day to night, night to day, year to year, week to week). The series explores prayer as a source of emotional expression, political power and exposes traditional ritual to various interpretations dealing with the "other", to gender, to myths and to the chasm that exists between tradition and modernism. The evening prayer symbolizes the passage from day to night. The words from the traditional Jewish prayer are printed on a blindfold, which turns the text into physical material. The Hebrew letters emphasize the difference between "strangers" in language to those that speak it and delve deeper into questions of strangers and locals. The work contains different elements that use traditional texts to heighten the spiritual experience such as spinning, light and darkness and transitions from sound to silence in order to emphasize the hierarchy of vulnerability and power.
Song and performance: Dikla Drori. Photography Ori Ackerman.
Curated by Drorit Gur-Arie, Israel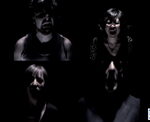 Ran Slavin – Everything is Urgent, 2009
With: Mami Shimazaki, Yuval Robichek, Yeara Moses, Guy Behar
The video-sound installation, Everything is Urgent, confronts us with human figures whose voices are replaced by ferocious barks of dogs. Each figure was given a growling "voice", perfectly synchronized until it became its own personalized bark. The figures stand before the camera, emerge from the dark to the light and bark in defiance. The viewer, the invisible addressee, is forcefully introduced to a situation of "fight or flight," in which the only possible judgment call is based on survival: how to respond to an antagonistic situation; a physical-animal reflex on the spectrum between beastly and the human via a hybrid action. This violent hybridization of an audio-visual collage in a reality that has lost the known human language and the ability to communicate. The work shifts the philosophical Self-Other relationship (Martin Buber), that deals with the inability to understand the "other".
Curated by Drorit Gur-Arie, Israel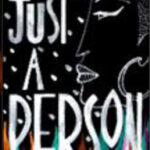 Alexandra Torres Novoa – Just a Person, 2020
Alexandra Torres Novoa is a visual artist from Peru. She has dedicated herself to illustration, comics, mural painting, thematic workshops and fanzines. Her need for communication evolved around making the Peruvian woman of our days and the kidnapping of her visible sexuality. JUST A PERSON is a graphic novel, which begins as a travel log of a Latin American woman on her vacation to Europe. It evolves into an introspective diary, which due to the pandemic makes it an introspection diary; rethinking identity in times of isolation, this is a journey that has no return, in time, in space, in context. https://issuu.com/aletorresdrawing/docs/template3. The musical composition is inspired by Torre's graphic novel and was composed by Swedish artist and musician Simo Brotherus.
Curated by Felice Hapetzeder, Sweden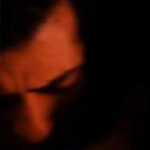 Aviad Zinemanas and Dor Zlekha Levy –Amor, 2020
Aviad Zinemanas is an Israeli Musician. Dor Zlekha Levy is an Israeli video artist. The work set out to investigate a specific emotional condition named Saudade that expresses the sweet melancholy accompanying the recognition that the object of our deepest yearning will no longer return. Zinemanas listened to dozens of songs featuring Saudade as a key motif, trying to understand it as a reduced frequency and not a particular theme. This frequency is expressed in color, pitch, and length of notes, and not in the dynamic of specific narrative development. He created an audio track onto which he embedded samples from popular songs. Zlekha Levy created a similar reconstruction of Saudade as a video work. He searched for visual manifestations of the word "Amor" in blockbuster movies, which represent a more banal and popular perception of romantic yearning. He extracted the frames that expressed the digital frequency he desired, moments that became objects of Saudade. As described in a text by Hagit Emma Werner,  by focusing on fragments of movement, expressions, and physical gestures, he presents the similarity among various objects of Saudade and exposes the structure of the shared experience.
Curated by Drorit Gur-Arie, Israel